Sarah Fantin
Assistant Professor of Chemistry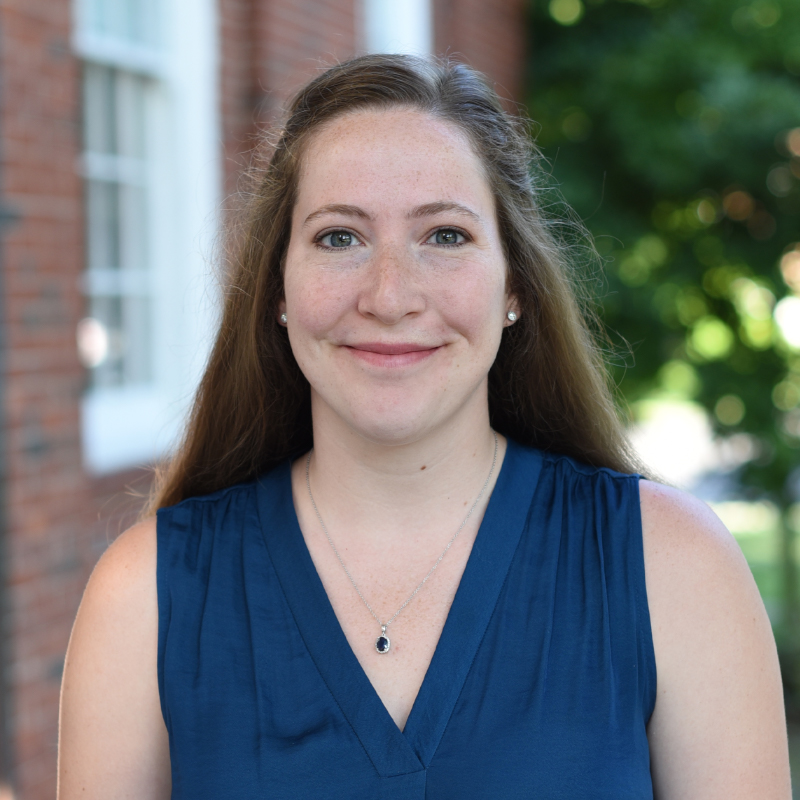 Classes:
– Principles of Chemistry I and II
– Quantitative Analysis
– Instrumental Analysis
– Biochemistry of Narcotics
Learn more about Dr. Fantin
Dr. Fantin was born in Columbus, Ind. and has been teaching at Hanover since 2020 in the fields of analytical chemistry and biochemistry. If something has to do with neuroscience, membranes, proteins, mass spectrometry, or pharmacology – she is interested in it! Likewise she has published in the Proceedings of the National Academy of Sciences and Journal of Analytical Chemistry, and is currently researching with students at Hanover in these areas. She enjoys bringing her giant fluffy dog Mo to campus for help with office hours. In her free time she plays "way too many" video games and sings in a rock band. Dr. Fantin is also actively interested in helping to diversify STEM and community outreach.
Specializations
Analytical chemistry, biochemistry, neurochemistry, neuropharmacology, science technology transfer / patent work. Research interests include: work with lipid nanodiscs, membrane proteins, native protein mass spectrometry, cannabis chemistry, and instrument maintenance.
Education
B.A. in Chemistry and Psychology, University of Indianapolis
Ph.D. in Analytical Chemistry, University of Michigan
Active Research
Project 1
Many important proteins in your body are located in membranes aka lipid bilayers. To study these proteins, it's important to make sure that they are purified into environments that mimic the hydrophobic lipid bilayer. One mimic are lipid nanodiscs, where a small lipid bilayer is held together by a "scaffold protein", kind of like a belt.
The goal of this research project is to synthesize lipid nanodiscs and examine how the lipids behave. In a real-life membrane, there are hundreds of different types of lipids that all move around each other. We plan to measure that movement, or the membrane fluidity, in a lipid nanodiscs made up of different types of lipids and then compare it to known measurements for real life membranes. Our question: How good are these lipid nanodiscs at mimicking real membranes?
Project 2
Cannabinoids are the active ingredients in the federally illegal drug marijuana. Hundreds of cannabinoids have been discovered in marijuana and most possess some psychoactive effects. Due to some weird legal loopholes, one cannabinoid is currently sold in stores in vape cartridges and is considered "legal" when purified from hemp (a close plant cousin of cannabis). However, other cannabinoids with very similar structures (just one double bond location is different) are illegal regardless of source.
Knowing how complex samples from plants are, our goal with this project is to analyze the contents of vape cartridges and natural samples from hemp and marijuana plants. We seek to know if something labeled "100% Δ8-THC" is truly 100% or if there is some contaminant Δ9-THC. Our first steps are creating a method on our instrumentation for separating standards of different cannabinoids using HPLC-MS and GC-MS. Part of this project involves instrument maintenance and repair – we get to pull pumps and instruments apart to then "do" drugs!
Publications
"Ion Mobility – Mass Spectrometry Reveals the Role of Peripheral Myelin Protein Dimers in Peripheral Neuropathy" Fantin, S. M.; Parson, K. F.; Yadov, P.; Li, G.; Sanders, C. R.; Ohi, S.; & Ruotolo, B. T. Proc. Natl. Acad. Sci. U.S.A. 2021.
"Collision-Induced Unfolding Differentiates Functional Variants of the KCNQ1 Voltage Sensor Domain" Fantin, S. M.; Huang, H.; Sanders, C. R.; & Ruotolo, B. T. J. Am. Soc. Mass Spectrom. 2020.
"Bicelles Rich in both Sphingolipids and Cholesterol and Their Use in Studies of Membrane Proteins", J. M.; Shih, K.; Scheidt, H. A.; Fantin, S. M.; Parson, K. F.; Pantelopulos, G. A.; . . . Ruotolo, B. R; . . . Sanders, C. R., J. Am. Chem. Soc. 2020.
"Ion Mobility-Mass Spectrometry Reveals the Ligand Binding Behavior of Integral Membrane Translocator Protein (TSPO)" Fantin, S. M.; Parson, K. F.; Niu, S.; Liu, J.; Polasky, D. A.; Dixit, S. M.; Ferguson-Miller, S. M.; & Ruotolo, B. T. Anal. Chem. 2019.
"CIUSuite 2: Next-Generation Software for the Analysis of Gas-Phase Protein Unfolding Data". Polasky, D. A.; Dixit, S. M.; Fantin, S. M.; & Ruotolo, B. T. Anal. Chem. 2019.
Dr. Fantin in the Classroom